Welkom – Welcome

ZooT – vintage dance band neemt je mee naar de gouden tijden van dans, vrolijkheid en swing! — ZooT is a vintage dance band that takes you back to the time when life was moving, dancing, laughing and swinging!

Live

Benieuwd naar waar we binnenkort spelen? Al onze live optredens op een rijtje. — Comprehensive listing for upcoming concerts and tour dates.
Media

Kijk, luister en beweeg mee met ZooT. Foto's, persfoto's, video's en fragmenten van onze nieuwste EP! — Watch, listen and move with ZooT. Here you'll find photos, press photo's, videos and samples of our latest EP!
Contact

Privéfeest? Een bedrijfsevenement? U heeft dansmuziek nodig? Neem contact met ons op. — Private party? An event? Need dance music? Contact us.

CD nu verkrijgbaar!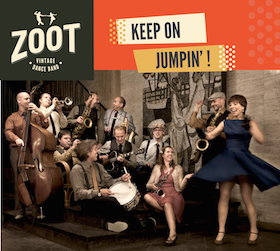 Zoot-Vintage Dance Band heeft al zijn favoriete nummers op één album samengebracht: Keep on Jumpin'!
Keep on Jumpin'! staat vol dans, vrolijkheid en swing in de stijl van de lindy hop, boogie en jive, met af en toe een uitstapje naar moderne tijden. Een feest voor een nieuwe generatie dansers, jazzliefhebbers en levensgenieters!
Bestel nu de nieuwe CD van ZooT voor slechts € 15,- plus € 2,- verzending. Mail naar info@zootband.nl, o.v.v. naam, adres en aantal CD's.
Beluister drie tracks op de mediapagina: klik hier.